linear_interpn
n dimensional linear interpolation
Syntax
vp

 = 

linear_interpn

(

xp1

,

xp2

,..,

xpn

, 

x1

,...,

xn

, 

v

)




vp

 = 

linear_interpn

(

xp1

,

xp2

,..,

xpn

, 

x1

,...,

xn

, 

v

, 

out_mode

)
Arguments
xp1, xp2, .., xpn

real vectors (or matrices) of same size

x1 ,x2, ..., xn

strictly increasing row vectors (with at least 2 components) defining the n dimensional interpolation grid

v

vector (case n=1), matrix (case n=2) or hypermatrix (case n > 2) with the values of the underlying interpolated function at the grid points.

out_mode

(optional) string defining the evaluation outside the grid (extrapolation)

vp

vector or matrix of same size than xp1, ..., xpn
Description
Given a n dimensional grid defined by the n vectors x1 ,x2, ..., xn and the values v of a function (says f) at the grid points :
v(i1, i2,…, in) = f(x1(i1), x2(i2),…, xn(in))
this function computes the linear interpolant of f from the grid (called s in the following) at the points which coordinates are defined by the vectors (or matrices) xp1, xp2, ..., xpn:
vp(i) = s(xp1(i), xp2(i), …, xpn(i))
or
vp(i,j) = s(xp1(i,j), xp2(i,j), …, xpn(i,j))
in case the xpk are matrices.
The out_mode parameter set the evaluation rule for extrapolation: if we note Pi=(xp1(i),xp2(i),...,xpn(i)) then out_mode defines the evaluation rule when:
P(i) ∉ [x1(1), x1($)] × [x2(1), x2($)] × … × [xn(1), xn($)]
The different choices are:
"by_zero"

an extrapolation by zero is done

"by_nan"

extrapolation by Nan

"C0"

the extrapolation is defined as follows:

"natural"

the extrapolation is done by using the nearest n-linear patch from the point.

"periodic"

s is extended by periodicity.
Examples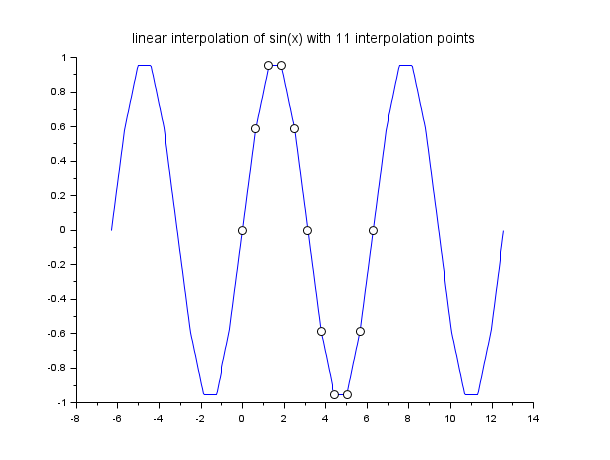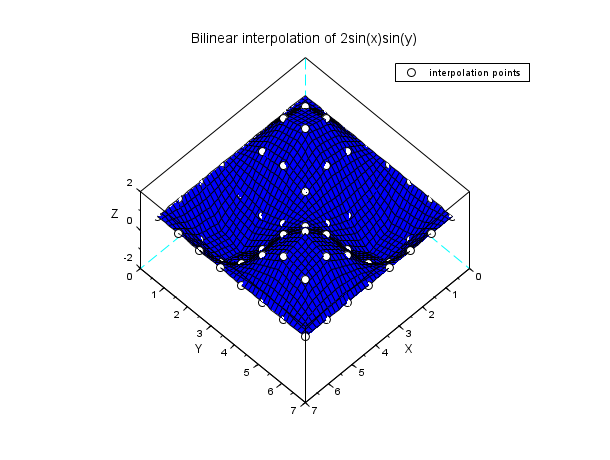 See also
---