Please note that the recommended version of Scilab is 6.1.1. This page might be outdated.
However, this page did not exist in the previous stable version.
Ajuda do Scilab >> Xcos > palettes > Electrical_pal > VariableResistor
VariableResistor
Electrical variable resistor
Block Screenshot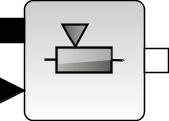 Contents
Description
This component represents a variable ohmic resistor. The resistance (Rx) is controlled via an explicit input port.

Default properties
Inputs :

Modelica variable name : 'p'

Implicit variable.

Modelica variable name : 'R'

Explicit variable.

Outputs :

Modelica variable name : 'n'

Implicit variable.

File name of the model : VariableResistor
Interfacing function
SCI/modules/scicos_blocks/macros/Electrical/VariableResistor.sci
Modelica model
SCI/modules/scicos_blocks/macros/Electrical/VariableResistor.mo