Please note that the recommended version of Scilab is 6.1.1. This page might be outdated.
However, this page did not exist in the previous stable version.
Aide de Scilab >> Xcos > palettes > Palette Electrique > PotentialSensor
PotentialSensor
Capteur de tension
Aperçu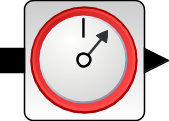 Contenu
Description
Ce bloc est utilisée pour mesurer un potentiel par rapport au potentiel de référence (bloc Ground) dans un circuit électrique. Le potentiel est fourni à la partie explicite du modèle à travers un port de sortie explicite.
Propriétés par défaut
Inputs :

Modelica variable name : 'p'

Implicit variable.

Outputs :

Modelica variable name : 'v'

Explicit variable.

File name of the model : PotentialSensor
Fonction d'interfaçage
SCI/modules/scicos_blocks/macros/Electrical/PotentialSensor.sci
Modèle Modelica
SCI/modules/scicos_blocks/macros/Electrical/PotentialSensor.mo