Please note that the recommended version of Scilab is 6.1.1. This page might be outdated.
However, this page did not exist in the previous stable version.
Aide de Scilab >> CACSD (Computer Aided Control Systems Design) > Plot and display > bode_asymp
bode_asymp
asymptote de diagramme de Bode
Séquence d'appel
bode_asymp

(

sl

, [

wmin

, 

wmax

])
Paramètres
sl

syslin list (SISO ou SIMO système linéaire) en temps continu ou discret (type state-space ou rational).

wmin, wmax

Réels scalaires: bornes de fréquence inférieure et supérieure (en rad/s).
Description
Trace l'asymptote du système sl.
Les arguments optionnels wmin et wmax (en rad/s) peuvent être utilisés pour tracer des asymptotes dans un périmètre précis.
| | |
| --- | --- |
| | Attention: cette fonction n'est pas applicable quand le premier argument est une matrice de réels. |
Exemples
s

 

=

 poly

(

0

,

 

'

s

'

)

;




h

 

=

 syslin

(

'

c

'

,

 

(

s

^

2

+

2

*

0.9

*

10

*

s

+

100

)

/

(

s

^

2

+

2

*

0.3

*

10.1

*

s

+

102.01

)

)

;



clf

(

)

;

 bode

(

h

,

 

0.01

,

 

100

)

;

 

bode_asymp

(

h

)

;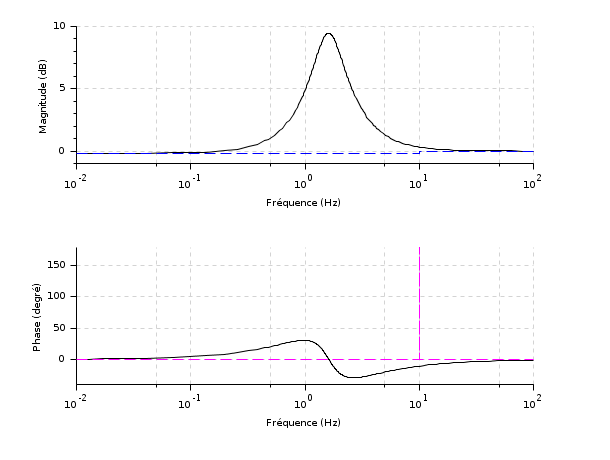 s

 

=

 poly

(

0

,

 

'

s

'

)

;




h1

 

=

 syslin

(

'

c

'

,

 

(

s

^

2

+

2

*

0.9

*

10

*

s

+

100

)

/

(

s

^

2

+

2

*

0.3

*

10.1

*

s

+

102.01

)

)

;




h2

 

=

 syslin

(

"

c

"

,

 

(

10

*

(

s

+

3

)

)

/

(

s

*

(

s

+

2

)

*

(

s

^

2

+

s

+

2

)

)

)

;



clf

(

)

;

 bode

(

[

h1

;

 

h2

]

,

 

0.01

,

 

100

,

 

[

"

h1

"

;

 

"

h2

"

]

)

;

 

bode_asymp

(

[

h1

;

 

h2

]

)

;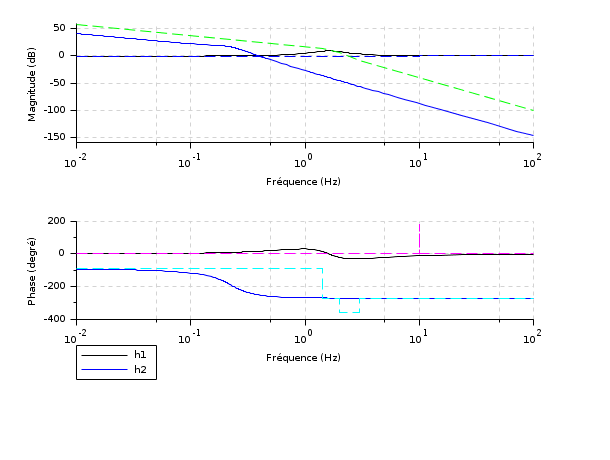 s

 

=

 

%s

;




G

 

=

 

(

s

+

10

)

/

(

s

*

(

s

+

100

)

)

;

 

// Une matrice de rational




sys

 

=

 syslin

(

"

c

"

,

 

G

)

;

 

// Un système linéaire en temps continu, représentation en matrice de transfert




f_min

 

=

 

.0001

;

 

f_max

 

=

 

1600

;

 

// Fréquences in Hz



clf

(

)

;

 bode

(

sys

,

 

f_min

,

 

f_max

,

 

"

rad

"

)

;

 

// L

'

argument 

"

rad

"

 convertit les Hz en rad/s




bode_asymp

(

sys

,

 

10

,

 

1000

)

;

 

// Trace les asymptotes dans le périmètre de fréquence donné (en rad/s)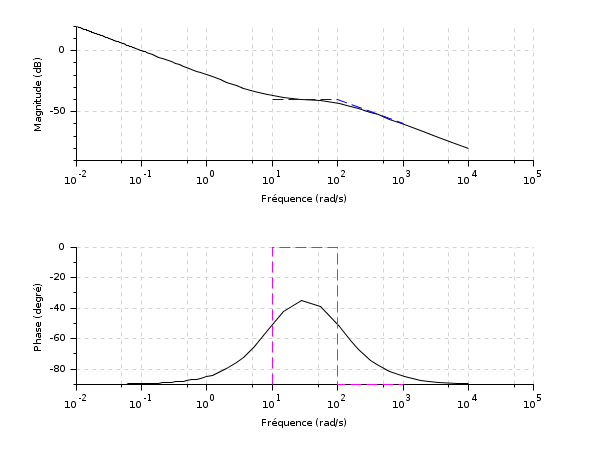 s

 

=

 poly

(

0

,

 

"

s

"

)

;




h

 

=

 syslin

(

"

c

"

,

 

(

s

^

2

+

2

*

0.9

*

10

*

s

+

100

)

/

(

s

^

2

+

2

*

0.3

*

10.1

*

s

+

102.01

)

)

;




h

 

=

 tf2ss

(

h

)

;



clf

(

)

;


gainplot

(

h

,

 

0.01

,

 

100

,

 

"

$\frac{s^2+18 s+100}{s^2+6.06 s+102.1}$

"

)

;

 

// Fréquences in Hertz




bode_asymp

(

h

)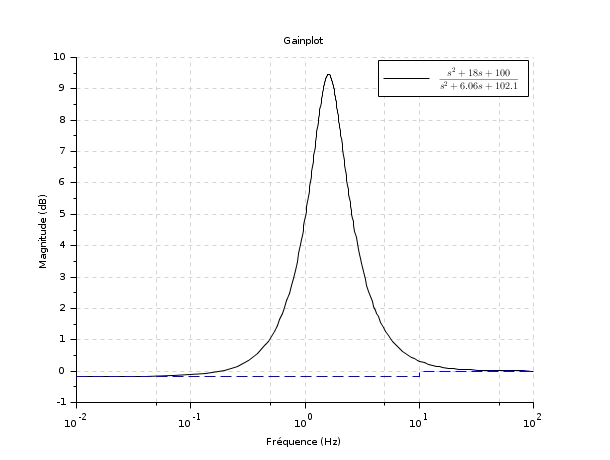 Historique
| | |
| --- | --- |
| Version | Description |
| 5.5.0 | Fonction bode_asymp() introduite. |