Please note that the recommended version of Scilab is 6.1.1. This page might be outdated.
However, this page did not exist in the previous stable version.
Scilab help >> Xcos > palettes > Sources palette > CLOCK_c
Block Screenshot

Contents
Palette
Description
This block is a Super Block constructed by feeding back the output of the block into its input event port.
The unique output of this block generates a regular train of events that's scheduled by the dialog parameter Period.
Dialog box

Period

scalar.

One over the frequency of the clock.

Period is the time that separates two output events.

Properties : Type 'vec' of size 1.

Init time

scalar.

Starting date.

If negative the clock never starts.

Properties : Type 'vec' of size 1.
Default properties
always active: no

direct-feedthrough: no

zero-crossing: no

mode: no

number/sizes of activation inputs: 0

number/sizes of activation outputs: 1

continuous-time state: no

discrete-time state: no

object discrete-time state: no

name of computational function: csuper
Interfacing function
SCI/modules/scicos_blocks/macros/Sources/CLOCK_c.sci
Compiled Super Block content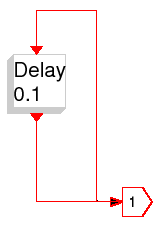 See also
Authors
Alan Layec - INRIA