Please note that the recommended version of Scilab is 2024.0.0. This page might be outdated.
See the recommended documentation of this function
Справка Scilab >> HDF5 Management > h5read
h5read
Read the data of HDF5 dataset
Syntax
h5read

(

obj

 [, 

name

, [, 

start

, 

count

 [, 

stride

 [, 

block

]]]])




h5read

(

filename

, 

name

 [, 

start

, 

count

 [, 

stride

 [, 

block

]])
Arguments
obj

a H5Object

name

a string giving the path to the new dataset

start

a row of doubles containing the start of the hyperslab

count

a row of doubles containing the count of the hyperslab

stride

a row of doubles containing the stride of the hyperslab

block

a row of doubles containing the block of the hyperslab

filename

a string giving the filename
Description
Read the content of a dataset according to the optional hyperslab selection.
It is possible to make an hyperslab selection on the data.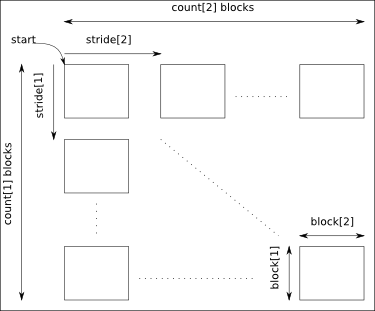 The arguments start, count, stride and block must have a size equal to the number of dimensions of the data:
start: gives the coordinates in the data where to start the selection.
count: gives the number of selected blocks in each dimension.
stride: gives the shift between two consecutives blocks in each dimension. Take care that the stride must be greater than the corresponding block dimension.
block: gives the block dimensions.
By default stride and block are set to 1 in each dimension.
Examples
x

 

=

 int8

(

matrix

(

1

:

80

,

 

10

,

 

8

)

)

;


save

(

TMPDIR

 

+

 

"

/x.sod

"

,

 

"

x

"

)

;

 

// SOD files are HDF5 ones





// Open the created file




a

 

=

 h5open

(

TMPDIR

 

+

 

"

/x.sod

"

)

;





// Read the data from the dataset 

'

x

'




dx

 

=

 

h5read

(

a

,

 

"

/x

"

)





// Now select a part




dx1

 

=

 

h5read

(

a

,

 

"

/x

"

,

 

[

3

 

4

]

,

 

[

5

 

3

]

)





// ...which is equivalent to




dx

(

3

:

(

3

+

5

-

1

)

,

4

:

(

4

+

3

-

1

)

)





// We have finished so we free all the resources


h5close

(

a

)

;
See also
h5readattr — Read the data of an HDF5 attribute
h5write — Create a dataset (if it does not exist) and write the data
h5dataset — Create a dataset and write the data
History
| | |
| --- | --- |
| Version | Description |
| 5.5.0 | HDF5 module introduced. |
---