Please note that the recommended version of Scilab is 6.1.1. This page might be outdated.
However, this page did not exist in the previous stable version.
Aide de Scilab >> Xcos > palettes > Palette Opérations Mathématiques > PRODUCT
PRODUCT
Multiplication/Division de vecteurs élément par élément
Aperçu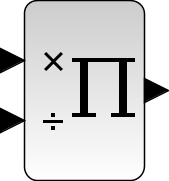 Contenu
Palette
Description
Ce bloc effectue la multiplication ou la division élément par élément des vecteurs d'entrée. Le nombre des entrées et l'opération sont spécifiés avec le paramètre Number of inputs or sign vector.
Pour multiplier toutes les entrées entre elles, mettre ce paramètre à la valeur du nombre d'entrées.

Pour multiplier/diviser l'entrée ui, mettre dans ce paramètre un vecteur k avec k[i] = +1 (multiplier) ou -1 (diviser) pour l'entrée ui.
Boîte de dialogue

Number of inputs or sign vector

Le nombre d'entrées et l'opération associée

Propriétés : Type 'vec' de taille N

Error on divide by zero (1: yes) (0:no)

Arrête la simulation en cas de division par zéro.

Propriétés : Type 'vec' de taille 1
Propriétés par défaut
always active: non

direct-feedthrough: oui

zero-crossing: non

mode: non

regular inputs:

- port 1 : size [-1,1] / type 1

- port 2 : size [-1,1] / type 1

regular outputs:

- port 1 : size [-1,1] / type 1

number/sizes of activation inputs: 0

number/sizes of activation outputs: 0

continuous-time state: non

discrete-time state: non

object discrete-time state: non

name of computational function: product
Fonction d'interfaçage
SCI/modules/scicos_blocks/macros/NonLinear/PRODUCT.sci
Fonction de calcul
SCI/modules/scicos_blocks/src/c/product.c (Type 4)