Please note that the recommended version of Scilab is 2024.0.0. This page might be outdated.
See the recommended documentation of this function
Справка Scilab >> Signal Processing > hilbert
hilbert
Discrete-time analytic signal computation of a real signal using Hilbert transform
Arguments
xr

real vector : the real signal samples

x

Complex vector: the discrete-time analytic signal.
Description
Returns theanalytic signal, from a real data sequence.
The analytic signal x= xr + i*xi has a real part, xr, which is the original data, and an imaginary part, xi, which contains the Hilbert transform. The imaginary part is a version of the original real sequence with a 90° phase shift.
See Also
Examples
//compare the discrete-time analytic signal imaginary part of the impulse real signal 




// with the FIR approximation of the Hilbert transform filter




m

=

25

;




n

=

2

*

m

+

1

;




y

=

hilbert

(

eye

(

n

,

1

)

)

;




h

=

hilb

(

n

)

'

;




h

=

[

h

(

(

m

+

1

)

:

$

)

;

h

(

1

:

m

)

]

;


plot

(

[

imag

(

y

)

 

h

]

)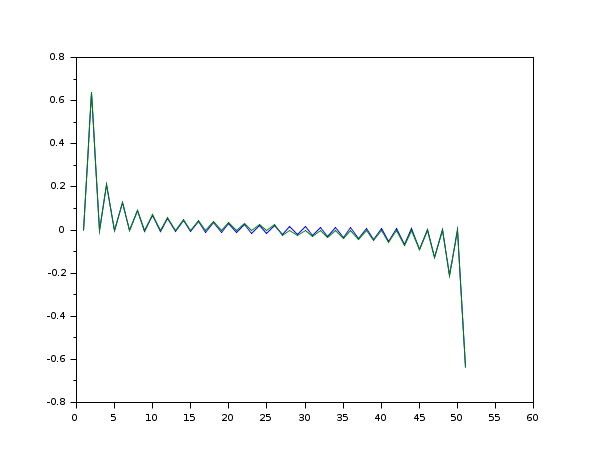 ---