Please note that the recommended version of Scilab is 6.1.1. This page might be outdated.
However, this page did not exist in the previous stable version.
Aide de Scilab >> Xcos > palettes > Sinks palette > ENDBLK
Block Screenshot

Palette
Description
That block can be used to set the final time of the simulation. When that block is truely parametrized then the simulator will jump to the 'final integration time' defined in the Setup item of the simulate Menu from the time defined by the parameter 'Final simulation time' of the dialog box. That parameter can be a numerical value or a symbolic variable defined in the scicos context.
Note that the 'Final simulation time' item (on diagram settings) always end the simulation at the specified time. This block should be configured to end the simulation before this setting.
Dialog box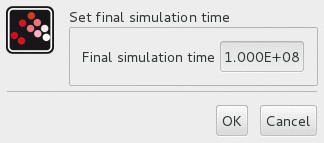 Final simulation time

Set the final time of the simulation.

When simulator reaches that value then the current time will jump to the final integration time.

Properties : Type 'vec' of size 1.
Default properties
always active: no

direct-feedthrough: no

zero-crossing: no

mode: no

number/sizes of activation inputs: 0

number/sizes of activation outputs: 0

continuous-time state: no

discrete-time state: no

object discrete-time state: no

name of computational function: csuper
Interfacing function
SCI/modules/scicos_blocks/macros/Misc/ENDBLK.sci
End example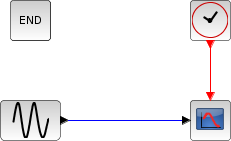 See also