Please note that the recommended version of Scilab is 6.1.1. This page might be outdated.
However, this page did not exist in the previous stable version.
Aide de Scilab >> Xcos > palettes > Palette Fonctions discontinues > RATELIMITER
RATELIMITER
Limitation de vitesse
Aperçu

Contenu
Palette
Description
Le bloc Limitation de vitesse limite la dérivée première du signal qui le traverse. La sortie ne change pas plus vite que la limite spécifiée.
Boîte de dialogue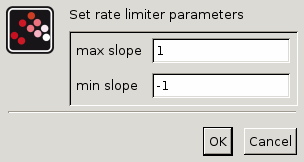 max slope

La limite sur la dérivée d'un signal d'entrée croissant.

Propriétés : Type 'vec' de taille 1

min slope

La limite sur la dérivée d'un signal d'entrée décroissant.

Propriétés : Type 'vec' de taille 1
Propriétés par défaut
always active: non

direct-feedthrough: oui

zero-crossing: non

mode: non

regular inputs:

- port 1 : size [1,1] / type 1

regular outputs:

- port 1 : size [1,1] / type 1

number/sizes of activation inputs: 0

number/sizes of activation outputs: 0

continuous-time state: non

discrete-time state: non

object discrete-time state: non

name of computational function: ratelimiter
Fonction d'interfaçage
SCI/modules/scicos_blocks/macros/Misc/RATELIMITER.sci
Fonction de calcul
SCI/modules/scicos_blocks/src/c/ratelimiter.c (Type 4)
Exemple divisant la pente de l'entrée par 3 :