Please note that the recommended version of Scilab is 6.1.1. This page might be outdated.
However, this page did not exist in the previous stable version.
Ajuda Scilab >> Xcos > palettes > Sinks palette > AFFICH_m
Block Screenshot

Contents
Palette
Description
This block displays the value of its unique input inside the block (in the diagram) during simulation.
Dialog box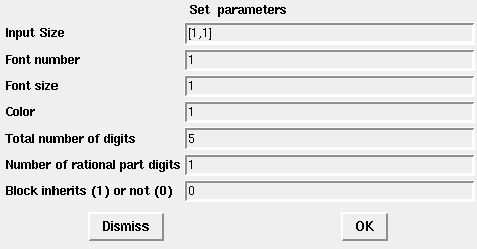 Input Size

Explicitly define the size of the input port.

Properties : Type 'mat' of size [1,2].

Font number

integer, the selected font number (see xset).

Properties : Type 'vec' of size 1

Font size

integer, the selected font size (set xset)

Properties : Type 'vec' of size 1

Color

integer, the selected color for the text (see xset)

Properties : Type 'vec' of size 1

Total number of digits

an integer greater than 3, the maximum number of digits used to represent the number (sign, integer part and rational part)

Properties : Type 'vec' of size 1

Number of rational part digits

n integer greater than or equal 0, the number of digits used to represent the rational part

Properties : Type 'vec' of size 1

Block inherits

Options to choose event inheritance from regular input or from explicit event input (0).

Properties : Type 'vec' of size 1
Default properties
always active: no

direct-feedthrough: yes

zero-crossing: no

mode: no

regular inputs:

- port 1 : size [1,1] / type 1

number/sizes of activation inputs: 1

number/sizes of activation outputs: 0

continuous-time state: no

discrete-time state: yes

object discrete-time state: no

name of computational function: affich2
Interfacing function
SCI/modules/scicos_blocks/macros/Sinks/AFFICH_m.sci
Computational function
SCI/modules/scicos_blocks/src/fortran/affich2.f (Type 0)