Please note that the recommended version of Scilab is 6.0.1. This page might be outdated.
However, this page did not exist in the previous stable version.
Aide Scilab >> Xcos > palettes > Palette Entier > BITSET
BITSET
Positionne un bit à 1
Aperçu

Contenu
Palette
Description
Ce bloc met à 1 un bit spécifié de son entrée. L'utilisateur spécifie l'indice du bit dans le champ Index of Bit, l'indice 0 étant celui du bit le moins significatif. L'opération peut être résumée par cette expression:

i.e. un OU bit à bit entre Entrée et Masque, un entier de même longueur que l'entrée avec une valeur 1 pour le bit à modifier et une valeur 0 pour les autres bits.
Types de données
Le bloc supporte les types de données suivants :
Entrée : scalaire. Tout type entier de Scilab (paramètre Data Type).

Sortie : scalaire. Même type que l'entrée.
Boîte de dialogue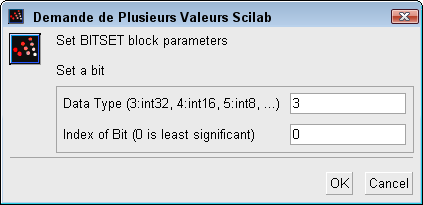 Data Type (3:int32, 4:int16, 5:int8, ...)

Indique le type entier des données en entrée (sortie) : entre 3 et 8.

Propriétés : Type 'vec' de taille 1.

Index of Bit (0 is least significant)

Indique le bit à mettre à 1. L'indice doit être, quand le type est :

int32 or uint32 : positif et inférieur à 32.

int16 or uint16 : positif et inférieur à 16.

int8 or uint8 : positif et inférieur à 8.

Propriétés : Type 'vec' de taille 1.
Propriétés par défaut
always active: non

direct-feedthrough: oui

zero-crossing: non

mode: non

regular inputs:

- port 1 : size [1,1] / type 3

regular outputs:

- port 1 : size [1,1] / type 3

number/sizes of activation inputs: 0

number/sizes of activation outputs: 0

continuous-time state: non

discrete-time state: non

object discrete-time state: non

name of computational function: bit_set_32
Exemple
Ci-dessous un cas simple d'utilisation du bloc. Ouvrir cet exemple dans Xcos

Fonction d'interfaçage
Fonctions de calcul
SCI/modules/scicos_blocks/src/c/bit_set_32.c

SCI/modules/scicos_blocks/src/c/bit_set_16.c

SCI/modules/scicos_blocks/src/c/bit_set_8.c
Auteurs
Fady NASSIF - INRIA